Dutton Goldfield - Pinot Noir - Fox Den Vineyard
2016
RED WINE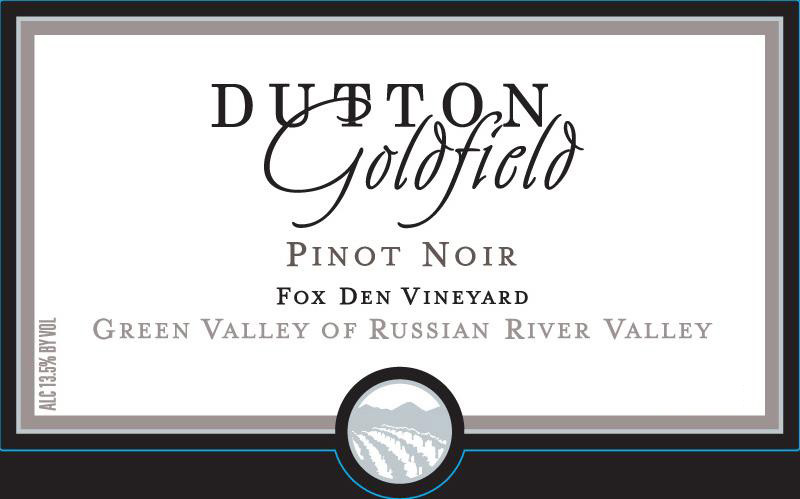 Producer Dutton-Goldfield
Blend 100% Pinot Noir
Country USA
Region California
Appellation Green Valley
UPC 892420000056
Reviews
Robert Parker 92+
The 2016 Pinot Noir Fox Den Vineyard has a medium ruby-purple color and nose of black cherry, wild blackberry and blueberry with notes of tobacco leaf and earth. Medium-bodied with dark fruits, grainy tannins and mouthwatering acidity, it finishes spicy.
by EB, Robert Parker , 2019
Wine Enthusiast 94
This wine is beautifully fruity in tones of cranberry, strawberry and raspberry, with perfumed wafts of rose and lavender on the nose. It's light in body, driven by bright acidity that keeps it fresh and inviting. A silky display of Asian spice rings on the finish.
by VB, Wine Enthusiast , 2019
Wine Spectator 92
Delicate, with a core of macerated red cherry and crushed raspberry flavors that are pure and juicy. Mineral and spice notes come in on the lithe finish.
by KM, Wine Spectator , 2019
Technical Details
Estate
Dutton-Goldfield's mission is to craft world-class wines that express the personalities of their cool-climate home, through a brightness of fruit, complexity, structure and balance. The winery was born of a handshake in a vineyard in 1998, when longtime colleagues and friends Steve Dutton and Dan Goldfield recognized this shared vision.
Tasting notes
Pretty notes of violet and bay leaf add layers of complexity. The energetic mouth leads with red raspberry, strawberry, and pomegranate, framed by dark cherry accents. The wine finishes long and fresh, with a touch of toasted caramel at the end.
Vinification
At Dutton-Goldfield, our pinot is hand sorted and destemmed into small open top fermenters and the must is then cold-soaked for 5 days to gently extract color, spice and fruit characters, while mitigating harsher tannins. The three blocks at Fox Den were fermented and barreled separately to optimize what we most love about each, then blended to our tastes in March. The core is the plush more strawberry 777 clone, then half as much of the blackberry, focused 667 clone. One of the pleasures of the spring blending is getting to hone barrel choices. Fox Den is all about the floral notes of Remond Trancais, but Taransaud holds down the bass tones, and Rousseau adds structure. The wine was bottled in February after 16 months in oak.