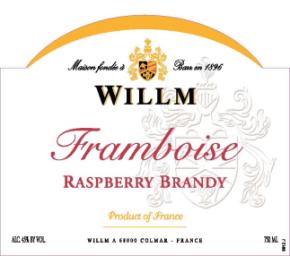 Willm - Framboise - Raspberry Brandy NV
Log in to view pricing and order online
Don't have an account? Register here
Item# 11738C-NV/12PK
Description
The abundant orchards and fruit of the Alsace region give way to making brandies that have become an integral part of the Maison Willm tradition and heritage. It is not uncommon for winegrowers to have fruit trees in addition to their vines. Over time, this tradition has naturally made its way into the Maison Willm traditions.
As with their wines, the quality of the fruits is essential. The fruits must be harvested when they've reached the perfect stage of ripeness in order to preserve the fruit's essence, which is key to producing the best brandy and capturing the richness of the local terroir.
The Master liquorist and House distiller then apply their expertise working with family recipes that only they have mastered. After the first stage of fermentation the fruits are distilled. Two distinct methods of distillation are used– the "one pass" and the "double pass" method–in order to carefully unveil the fruit aromas. The brandy then enters a long phase of maturation before reaching its peak level of expression. This vigorous process gives way to a subtle balance of flavors.
Estate
In 1896 the Willm family founded the Willm Estate in Barr, at the foot of the majestic Kirchberg de Barr Grand Cru vineyard. Willm has always been concerned with revealing the best of its terroirs and sharing its exceptional wines with the whole world. Thanks to the adventurous founder Emile WILLM, the estate's wines were the first from Alsace to be exported to the United States in the early 1930s, after prohibition laws were lifted. Their wines are celebrated for their blend freshness, minerality and elegance; they are synonymous with tradition, terroir, purity and refinement.
Tasting notes
Fruity flavors quite typical of raspberry with a slight hint of licorice. Serve straight up in a chilled glass.
Vineyard
The Willm vineyard is located in the Barr region of northern Alsace at an altitude of 200-400 meters, extending from the mountainous base of the Vosges to the plains of Alsace and the Rhine. Bordered by the Vosges Mountains to the west, the Barr hillsides benefit from a dry and sunny microclimate thanks to their south-southeast exposure, optimal for cultivating the vines. The fluctuation between warm days and cool nights in autumn is conducive to a slow, prolonged grape maturation.