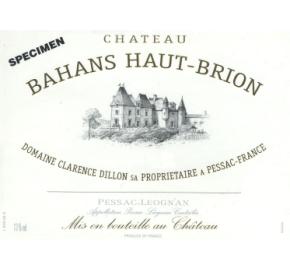 Chateau Bahans Haut-Brion 2004
Log in to view pricing and order online
Don't have an account? Register here
Item# 10053-04
Since the 2007 vintage, in connection with the 75-year anniversary of Dillon family ownership, the red second wine Château Bahans Haut-Brion has been released under the new name Le Clarence de Haut-Brion.

by Monsieur Touton Selection, 2012.
Tasting notes
Deep, intense color. This wine has a very distinguished bouquet, and the estate's terroir already comes through clearly. Swirling the wine in the glass releases very complex aromas with more mineral overtones. 2004 Bahans Haut-Brion starts out very soft on the palate, but the tannins go on to become more firm. Cabernet Sauvignon clearly has the most influence on the final blend, and helps define this wine's very classic style.
Vintage
The year 2004 began with an extremely rainy month of January. In spite of this marked humid start up, the year 2004 in finis finale turned out to be short on the humidity factor. The flowering at the beginning of June took place under perfect climate conditions and was swift with a pleasing equilibrium. The August rain was for the most part concentrated during the last two weeks. As a result we decided to remove some of the leaves covering the bunches on the vines. This maneuver enabled the harvesting of ripe and healthy grapes during the superb month of September. The picking of the white grapes began on September 6th and the red grapes on September 16th.
Weather
Sum of temperatures: 3365 °C.
Rain: 325 mm.
Days where temperature above 30 °C: 21.
Harvest: from 06 September to 06 October 2004.