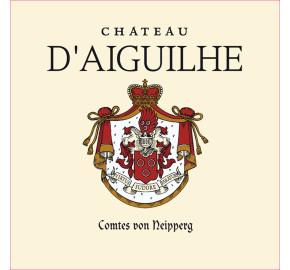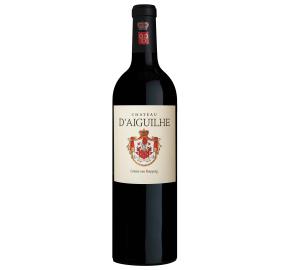 Log in to view pricing and order online
Don't have an account? Register here
Item# 305-10
Ageing
In new oak barrels (50%) on the lees for 17 months. No fining or filtering
Vinification
In wooden vats for 25 days. Extraction by pneumatic pigeage (punching down the cap)
Estate
Acquired by Stephan von Neipperg in late 1998, Château d'Aiguilhe is one of the finest and most beautiful vineyards in the Castillon-Côtes de Bordeaux appellation. Located back from the river, the château's dignified ruins bear witness to a long and turbulent history.
Formerly the heart of a fortified farm, the château dates from the 13th century. Everything leads us to believe that the Aiguilhe seigneury was vast, with several large fiefs. Located on the frontier between areas occupied by the French and English during the Hundred Years' War, the château had a major strategic role and changed allegiance regularly according to the political tendencies of the seigneur... Later on, the château belonged to the Albret family, then the Leberthons, who contributed several members of the Bordeaux parliament. Before emigrating on the eve of the French Revolution, the Leberthons sold the estate to a certain Etienne Martineau, who transformed it into a huge 400-hectare farm in a single block that stayed in his family until 1920.
Today, the estate covers 140 hectares, including 90 planted with vines. The vines grow exclusively on the plateau, where they benefit from south-facing sun exposure and excellent natural drainage. A thin layer of rather meagre clay-limestone and clay-silt topsoil overlays a limestone substratum that ensures remarkable water regulation. Combined with the average age of the vines, this terroir is ideal for producing quality wine.
Château d'Aiguilhe produces also a fruity and quaffable second wine, known as "Seigneurs d'Aiguilhe", and since 2015 a 100% Sauvignon Blanc called "Le Blanc d'Aiguilhe".
Food Pairing
We recommend pairing this wine with an aperitif, Deli meats, Red meat, White meat, Poultry, Game meat, Worldwide Dishes and Cheese.
History
Members of the Franconian aristocracy with a long political and agricultural tradition, the Counts von Neipperg family line can be traced back to the 12th century. Representing some eight centuries of winegrowing and winemaking experience, today Count Stephan von Neipperg manages the 9 family-owned estates, 4 of which are in Saint-Emilion, Bordeaux: Château Canon La Gaffelière, La Mondotte, Clos de l'Oratoire, Château Peyreau.