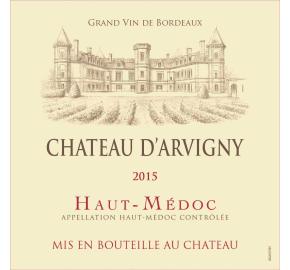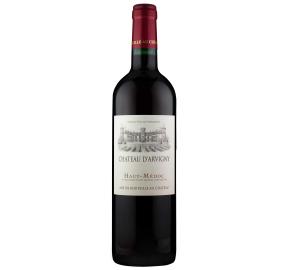 Producer

Chateau d'Arvigny

Blend

10% Cabernet Franc
60% Cabernet Sauvignon
30% Merlot

Country

France

Region

Bordeaux

Appellation

Haut-Medoc

UPC

37004389619117
Log in to view pricing and order online
Don't have an account? Register here
Item# 360-19
Tasting notes
A soft, supple, fruit forward styled Haut-Medoc. Red berries, soft tannins and low acidity make the wine smooth and elegant thus a good ambassador for an appellation.
Food pairing
This wine will perfectly accompany flavorful (red or white) meat dishes such as rib-eye steak, porterhouse steak, sirloin steak, T-bone steak ... It is also a classic match with lamb dishes (baby lamb chops, roasted leg of lamb...). Also harmonious with most cheeses like Gruyere, Comte, Cantal, Reblochon, Beaufort … (avoid Roquefort and arguably Camembert). And of course, will also easily and gracefully accompany more simpler dishes like pizza and/or most barbecued foods.
Winery Technical Data
2nd wine of Ch. Beaumont. The vineyard of Chateau Beaumont has been known since 1824 and thirty years later its splendid castle in a Renaissance style was built. Various famous owners follow one another hoisting Beaumont to the forefront of the "Crus Bourgeois Supérieurs". With the arrival of Mr. Etienne Priou (Manager) and with the guidance of Mr. Philippe Blanc (Ch. Beychevelle), the estate has taken a noticed qualitative turn-around since 1986 and continues to confirm its position among the sure values of its appellation and classification.
Vineyard
- Varietals : 60% Cabernet Sauvignon, 30% Merlot, 10% Cabernet Franc.
- Soils: Topsoil of thick gravel and a subsoil of clay limestone.
- Size of the vineyard : 105 ha
- Age of the vine: 40 years
- Planting density: 6700 vines/ha
- Average Yield : 48 hl/ha
- Harvest: The harvest is done by machine
Vinification
-Vinification: following a sorting process, the vinification takes part in temperature controlled stainless steel vats. Gravity is used to protect the grapes during alcoholic fermentation.
-Ageing: After fermentation the harvest goes partly into oak barrels.
-Bottling: at the chateau.