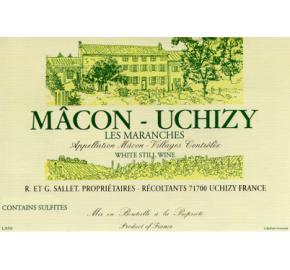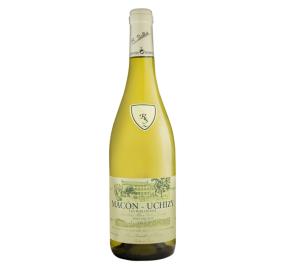 Domaine Sallet Macon-Uchizy - Les Maranches 2020
Log in to view pricing and order online
Don't have an account? Register here
Item# 563-20
Tasting notes
Typical of the single-village Macon style, this wine is unoaked and emphasizes the fresh fruit and floral character of the Chardonnay grape. It is fresh and clean with notes of white flower, Asian pear, lime and elegant minerality. Full of energy but not sharp, this is a dry white wine for light meals or just sipping with friends. This wine is extremely food friendly and also great as an aperitive. It will pair with a wide array of dishes including goat cheese, white fish and shellfish, roasted chicken and grilled vegetables.
Appellation
Mâcon Uchizy wines are those produced under the Mâcon appellation within the commune of Uchizy. The designation was created in 2005, and covers just 106 acres. The Mâcon Uchizy title covers white wines produced exclusively from the Chardonnay grape variety. The vineyards are situated on the Easternmost section of the Mâconnais hills. They benefit from proximity to the Saône river, with air movement combatting frosts and hot summer temperatures. The vines are mainly planted on the hillside 790-985ft and are oriented to catch the morning sun. The soil alternates layers of chalk and marl across much of the commune. Around the village itself vines grow on a combination of clay and chalky, stony soils. Wine from this appellation are known for their consistency and are a great value for their relative price.
Description
Rafael Sallet is a maestro of fine white Burgundy winemaking. He is internationally regarded for crafting exceptional Chardonnay and for developing outstanding wines from lesser-known village appellations such as Mâcon-Uchizy, in southern Burgundy. The key to his success is his fanatical attention to detail.
Vineyard
The vines are located within the commune of Uchizy, in Southern Burgundy in the North of the Mâconnais region at the average altitude of 850 feet above sea level. The soil here is primarily limestone and clay, on gentle slopes with East facing exposure. The 40 acre vineyard is sustainably farmed with a vine density of 3000 plants per acre and an average vine age of 30 years old. The vines are trained with classic Guyot trellising system.
Vinification
Grapes are gently and slowly pressed in pneumatic presses, then the juice is settled at low temperatures. Fermentations are done in temperature controlled stainless steel vats so as preserve the freshness and natural fruitiness in the grape. Alcoholic fermentation, malolactic fermentation and maturation takes place on the fine lees to add texture and complexity. Racking and a light filtration are carried out prior to bottling in Spring, with no oak aging.