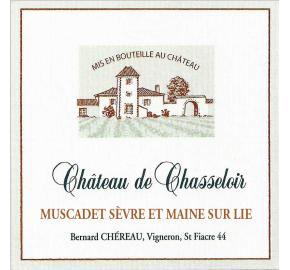 Chateau de Chasseloir 2020
Log in to view pricing and order online
Don't have an account? Register here
Item# 345-20
Description
Chateau de Chasseloir has 25 hectares of Melon de Bourgogne vines that are about 50 years old – five of these hectares are over 100 years old: these are the oldest vines in Muscadet. They produce fewer grapes than younger stock, but with much more concentrated flavor. Harvested exclusively by hand to avoid breaking the fragile plants. They use these grapes to make a special cuvee that they age for a number of years on the estate. The vines are planted on the south-facing hillsides of the River Maine, which has excellent drainage and a southern exposure conducive to perfect ripening of the grapes. The soil is made of schist, a flat grey stone of the slate family, commonly found in the region. These stones provide excellent drainage and allow water to infiltrate the earth. The vine roots dig deep down to find the water and minerals they need.
Cherreau-Carre is one of the leading Muscadet producers with substantial family owned vineyards in some of the best locations in the region. Their vineyard area totals 267 acres of the highest quality soil, making them one of the largest producers of Muscadet. The wide variety of terroirs available within the estate enables Bernard Cheareau to offer a comprehensive selection of styles including those bottled sur lie where the wine is drawn straight off the lees prior to bottling, resulting in a wine with more weight and complexity.
Tasting notes
Simply delicious Melon de Bourgogne! Just the right amount of acidity and final dryness to keep it well balanced. Delicate aromas of chamomile and notes of melon, apricot, grapefruit, and some minerality.
Estate
The House of Chéreau Carré occupies the most privileged position in the Loire-Atlantique department of France. This family-owned property dates back to the 15th century. The vines here are some of the most prized in the region of the Muscadet Sèvre-et-Maine. The property is managed by Bernard Chéreau, whose family origins span back to the eleventh century. Bernard's passion for Melon de Bourgogne is evident in the quality of his wines.
Wine
The Muscadet appellation is planted with only Melon de Bourgogne, a variety brought to the Nantes area by monks from Burgundy in the 19th century. After a harsh winter in the area, the wine growers had to plant a new variety that would withstand the cold. The variety was obtained by crossing Pinot Blanc with Gouais Blanc.