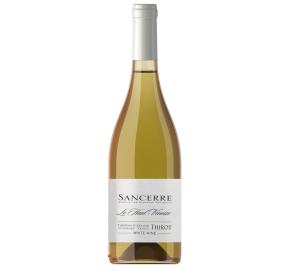 Christian & Jocelyne Thirot - Sancerre Le Haut Venoize 2020
Producer

Christian & Jocelyne Thirot

Blend

100% Sauvignon Blanc

Country

France

Region

Loire Valley

Appellation

Sancerre

UPC

0 15643 25054 5
Producer

Christian & Jocelyne Thirot

Blend

100% Sauvignon Blanc

Country

France

Region

Loire Valley

Appellation

Sancerre

UPC

0 15643 25054 5
Log in to view pricing and order online
Don't have an account? Register here
Item# AB1595-20
Tasting notes
Color: Pale, yellow colour
Nose and Palate: Flinty, floral notes on the nose with zesty passion fruit and pear flavors on the palate
Vineyard
is located by the banks of the Loire River 2 hours from Paris. Our estate is situated in the village of Bue 4 kilometers from the town of Sancerre.
Beginning in 1984 with a few of my parents' and grandparents' vines, we are now cultivating 10 hectares ( 25 acres ) 7 hectares of Sancerre white and 3 hectares of Sancerre red. 40% of our wines are protected by a grass cover crop and 60% are plowed. Our estate spreads out over the hillsides of Bué, Crézancy and Sancerre on limestone-clay soils whose composition is 10% clay and 90% limestone with southwest exposure.
Ageing
White wine is fermented in stainless steel vats which enable easier regulation of yeast activity through temperature control. Prolonged fermentation at low temperature protects primary fruit characteristics and ensures the conversion of all the sugar to alcohol.
The juice is fermenting, developping lees, small particles, odd dead cells. They are waste from pressing of unfermented grapes, they contain solid particles from the skins, seeds cobs etc..They are organic matters. These lees are falling down by natural gravity.
Food pairing
As An aperitif with oysters, fish and all finds of seafood
Harvest
The grapes are machine harvested in October. Depending on the maturity.