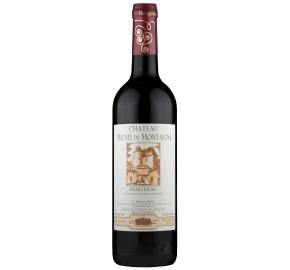 Chateau Michel de Montaigne 2018
Log in to view pricing and order online
Don't have an account? Register here
Item# 1683-18
Background
It is undeniable, the illustrious master of the house liked the wines, particularly those produced Montaigne its vineyards. The fresco of a bunch of white grapes still visible in the workroom of the Tower and demonstrates the long history that binds the vines and the terroir of Montaigne. Since the acquisition of the Castle and its vineyards in 1860, our family is so committed to produce wines that express the qualities of this great terroir. Thus, the famous author and publisher Bordeaux Edouard Féret wrote in 1903: "With the clay-limestone nature of its soil, an excellent choice of grape varieties and the most perfect care given to culture as in winemaking, this raw product red and white wines placed among the best in the country.
Tasting Notes
A beautiful black dress in the lively reflections reveals a nose to the notes of red berries which will evolve towards black fruits. His freshness in mouth expresses himself by its flexibility in the aromas of strawberry and blackcurrant finishing on notes of licorice and chocolate with melted tannins. Attractive curvature and power.
Vinification
Our stemmed grapes are vinified in vats. To extract the flavor, color and tannins that will ensure style and aging potential of our wines, regular pumping are made for 8 to 10 days. Depending on the vintage, vatting (alcoholic fermentation and maceration) lasts 2-3 weeks. For each tank, we realize a slight bleeding which allows the development of our Rosé. Then we move the drop of wine and constitute batches for each variety (Merlot, Cabernet Franc and Cabernet Sauvignon), also taking into account their origin (Plateau hillside or bottom) and the age of the vines. The press wines are assembled and stored in another separate bowl: they will bring the latest "grain of salt" that will give relief to our assemblies. Breeding starts in vats, where each batch realizes its malolactic fermentation before spring.
Viticulture
The lots are assembled and constitute our Cuvée Tradition. It is still a good year in high tank. The assembly of this wine is a reflection ofe grape varieties in red grapes of our area: 45% Merlot, 35% Cabernet Franc and 25% Cabernet Sauvignon. The Cuvée Tradition can be enjoyed young thanks to a good decanting or ideally after 8 to 10 years. In the most favorable vintages, his custody can reach 20 years.