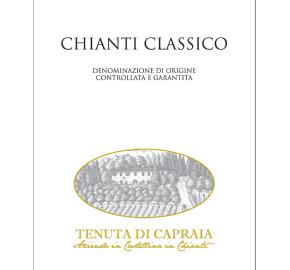 Tenuta di Capraia - Chianti Classico 2016
Log in to view pricing and order online
Don't have an account? Register here
Item# 83081-16
Food Pairing
White meat, red meat and medium-aged cheese.
Tasting notes
Chianti Classico Tenuta di Capraia is a wine with an optimal complexity and structure. Ruby red colour with violet tinges. Intense and rich aroma, vinous, fruit-driven. Pleasant cherry notes, refreshing and well-balanced with hints of integrated vivid tannin.
Vineyard
VINEYARD: Various spots in Località Capraia
SOIL: Medium soil, with clay and marl
SURFACE OF THE VINEYARD: 45 Ha
AGE OF THE VINEYARD: From newly planted to 35 years
SUN EXPOSURE: Various
AVERAGE ALTITUDE: 300m asl
DENSITY OF PLANTATION: 5000 Plants/Ha
AVERAGE YIELD: 1.2 Kg/plant
PRUNING Runner: system and Guyot
HARVEST: From the second half of September to the first half of October
Wine
This wine is made from the grapes harvested in our 45Has estate located in Localita Capraia, Castellina in Chianti. This vineyard faces South and is located at 300 m asl, on a medium soil, deep, fertile and with a high content of clay.
Vinification
MACERATION: Under controlled temperature (28°C) for 10-12 days
MALO-LACTIC FERMENTATION: In steel tanks
OAK AGEING: At least 1 year in the traditional Chianti barrels, followed by 3 months in steel tanks and at least 6 months in the bottle.
YEARLY PRODUCTION: 150,000 bottles approx