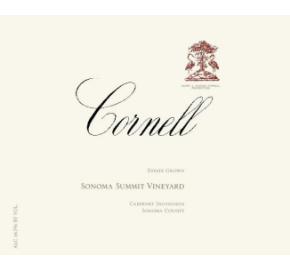 Cornell - Cabernet Sauvignon - Estate Grown 2016
Log in to view pricing and order online
Don't have an account? Register here
Item# 72243-16
Description
Eighteen years ago on the top of Spring Mountain, Henry and Vanessa Cornell purchased a plot of rugged, untamed ground on a former stagecoach route where vines had been tended by early settlers. With respect for the land foremost in their minds, they returned the rolling hillsides to vineyards.
Two hundred wild acres with sweeping views contain twenty acres of obsessively farmed vineyard blocks, each with its own distinctive imprint. Under the guidance of winemakers Francoise Peschon and Elizabeth Tangney, Cornell Vineyards strives to make a Cabernet Sauvignon that is faithful to the diversity of this impressive land.
Appellation
Straddling the Mayacama mountain range, the location is Sonoma County's Santa Rosa high atop Spring Mountain. Cornell Vineyards is perched between 1600 and 1900 feet. This is the land where clouds pass so close you can almost reach out and touch them. Where terrain and weather are untamed. A frontier of wild yesterday's where stagecoaches once traversed. Cornell experiences warm afternoons and cool, fog-free mornings. No scorching 100-degree heats like the valley floor gets. Bud break is later than the valley floor, as is the harvest. Stylistically Cornell picks earlier than many others.
Vineyard
Considered relatively small in terms of wineries in Sonoma, Cornell Vineyards are structured in 20 blocks for a total of 20 acres (approximately 30,000 vines). Bordeaux varietals are their focus: Cabernet Sauvignon (17 acres); Merlot (1 acre), Petit Verdot (1 acre); Malbec (one-half acre), and Cabernet Franc (one-half acre). Like many wine producers creating exceptional wines, Cornell Vineyards uses only a small percentage of the very best vineyard lots, 25 separate picks were conducted in 2014, only 36% of the harvested grapes ended up going into the final blend.
"The artistry comes in how we farm and then how we make and blend the wine. We are meticulously farming each of our 20 vineyard blocks differently — many of which are half-acre sizes. We do this because each is so unique and represents its own microclimate and a different blend of our five soil types. What that means is that there is a lot of hands-on farming going on here and that we've come to know each section of the vineyard and understand its personality." Elizabeth Tangney, Viticulturist
Winemaker
The winemaking is under the tutelage of one Françoise Peschon (Araujo, Accendo, Drinkward Peschon, Vine Hill Ranch). A sought-after wine consultant in Napa & Sonoma, she is a San Francisco native. Peschon found a passion for wine through her trips to Napa and later enrolled in UC Davis earning a degree in Fermentation Sciences. Wine travels took her to Bordeaux where she attended the University of Bordeaux. She is known in the wine industry for her light touch, finesse, and understated elegance.