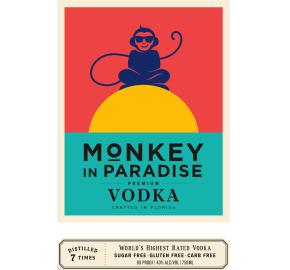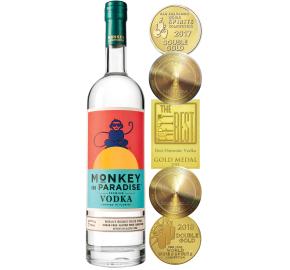 Monkey in Paradise Vodka NV
Log in to view pricing and order online
Don't have an account? Register here
Item# 72334-NV
Tasting notes
Monkey in Paradise has consistently received top honors in the industry's most respected competitions. Crafted in Florida, from only the highest-grade American corn. Distilled seven times in copper stills, and then refined through an advanced vapor filtering process to reduce sulfites naturally, the rest is a best-in-class vodka with a pure, clean flavor profile.
Background
You don't expect a premium vodka to have a name like "Monkey in Paradise." Or, for that vodka to win Double Golds at the San Francisco World Spirits Competition. "Best Domestic Vodka" at the Fifty Best American-Made Craft Vodkas tasting competition. Double Gold and "Best Vodka" at the Stuttgart International Spirits Competition. And, Double Gold and "Best Vodka" at the New York World Wine & Spirits Competition - two years in a row.
Distillation
Most vodkas are made in stainless steel column stills. We use copper stills exclusively. Producing and filtering vodka in a copper still reduces sulfites and creates a much smoother product. We also use the more expensive copper vapor filtering process - not just once, but seven times. This filtering is accomplished in a 100% copper vapor path. If purity is the end goal, a copper still is where you need to begin.
The Corn
It all starts with sweet, certified American-grown corn. That's also where it stops. Unlike other vodkas that add cheaper grains to their mash which bitter the taste, our vodka lets the corn's natural sweetness come through. Plus, the corn-to-water ratio in our proprietary mash creates a thicker, richer mash. Sure, it's harder to work with and makes the fermentation process twice as long. But, it's this extra time and effort that gives our vodka its clear, clean taste.
The Water
Water is denser than alcohol. So, successfully blending the two requires extra steps in the aging, resting, and filtering process. The bottom line: the more you filter and allow for "age settling," the better the marriage of those liquids — and the smoother the final product. As a result, we charcoal filter the liquid three times, allowing the alcohol and water to age and rest together at four different proof levels. This "age and rest" procedure is slow and time-consuming, but the result is a twelve-times charcoal-filtering process that allows the water and alcohol to bind completely. In addition, we demineralize the water with our five-ppm reverse osmosis system to assure the water's utmost purity before the process ever begins. This extreme level of purification takes 11 gallons of water to produce one "paradise pure" gallon of water to use for the distillation process.