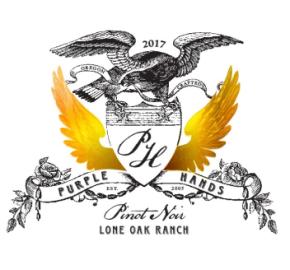 Purple Hands - Pinot Noir - Lone Oak Ranch 2020
Log in to view pricing and order online
Don't have an account? Register here
Item# 70855-20
Tasting notes
Orange peel, cola, black tea, rose petal, pomegranate, clove, cinnamon, nutmeg, black cherry, boysenberry, bay leaf, tobacco.
Ageing
11 Months in Barrel
75% Neutral French Oak
25% New French Oak
Technical data
Cuvee of our 6 Vineyard Sites
5 Oregon AVA's
Hand Harvested
3.6 pH
6.0 gr/l TA
13.5% Alcohol
Vintage
The 2017 growing season saw a really warm summer. As we moved into veraison, color came on fast and fruit spiked to low 20 brix quickly. Having endured one of the dryest summers on record, non-irrigated vineyards struggled to find water to move nutrients through the vines to continue ripening through the end of August. As we worked into September the fruit was not moving much in brix; all six Vineyards we work with were strugling to push ripening due to the lack of water. The 2nd weekend of September brought on 2 inches of rain and the 3rd weekend of the month brought one inch. Many wineries decided to pick before the rains, remembering the 2013 vintage - during which winter quickly closed the door on summer and brought 10 inches of rain in a couple of weeks. I waited for the rain, knowing that all of our vineyards were sitting still and needed a great drink of water to move them along. My gamble paid off, and the rain was just as I described over the 3 weeks. Every vineyard came in with perfect ripeness for us and incredibly perfect acidty for the balanced power of the vintage. I personaly think 2017 is the most balanced vintage I have created yet. While these wines will easily lay down for 20 + years, they are also soft and approachable now.