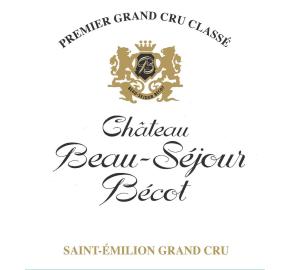 Chateau Beau-Sejour Becot 2006
Log in to view pricing and order online
Don't have an account? Register here
Item# 1718-06
Vinification
Fruit screening on three separate tables.
(2 before de-stemming, 1 after).
Vatting : in stainless steel, temperature controlled, vats and in new barrels (600 litres).
Processing of fruit plot by plot.
The floating crust is regularly immersed in the must by hand
Vatting period : approximately 30 days (between 28 and 32 Celsius)
The wine is run-off into barrels without using pumps.
Ageing
Malolactic fermentation in barrels.
80 to 100 % in new barrels, according to vintage.
16 to 18 months in a cellar at constant temperature of 16 Cesius.
Consultant oenologist : Laboratoire Rolland (Jean-Philippe Fort).
Second wine : Tournelle de Beau-Sejour Becot.
Vineyard
Situation : On the western plateau of Saint-Emilion, in the old parish of Saint-Martin de Mazerat.
Surface area : 16,52 ha.
Whole estate : 18,50 ha.
Soil : Chalk with fossilised starfish.
Grape varieties : 70% Merlot, 24% Cabernet franc, 6% Cabernet sauvignon.
Planting density : 6,600 vines per hectare.
Average age of vines : 40 years.
Vineyard management : Grass grown between the rows (natural or sown), Bordeaux-style pruning, leaving two basic branches (Mr Cordeau), leaf removal carried out twice, green fruit removal in two campaigns.
Harvest : By hand.
Yields : Controlled to between 30 and 38 hl per hectare.